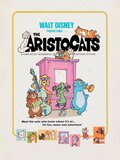 The AristoCats

Aristogatas
Score: 🐱🐱🐱🐱
Type: Full-length Movie
Duration: 79 minutes
Release date: 1970
Genres: Animation, Adventure, Comedy, Musical
Cats Spotlight: Marie and Toulouse
AristoCats is my favourite Disney movie (and the only of the few Disney movies that I like at all). I remember watching it as a kid and hating that stupid butler for catnapping the poor kittens and after rewatching this year (2023) I still do! I also think that this is a highly underrated Disney movie and the only character that made it to fame was the kitten Marie that managed to be a famous stationery character.
The plot is about a white cat mom, Duchess, that lives with her three kittens, Berlioz a dark gray cat, Marie a white cat and Toulouse a ginger cat, alongside her owner a retired opera diva, Madame Adelaide Bonfamille. The Madame is filthy rich and plans with her lawyer to leave all her money to her cats when her stupid, jerk, rude butler eavesdrops and kidnaps her cats late at night to let them die in a rainstorm. Totally inadmissible, but don't worry because the cats don't get hurt (besides being drugged with sleeping pills). After this the cats befriend a ginger tomcat, O'Malley who guides them to home.
I will make this review different since I am going to cite the great and the bad points about the movie (without trying to spoil it too much). Beginning with the bad points: there is a dog duo which is totally unnecessary to the movie since they didn't even interact with the protagonists, it even felt like I was watching a novela with its many different nucleus (why they had to push a dog even in a cat themed movie?); the cats are fed with something called "Crème de la Crème à la Edgar" which I think that is milk with cream, instead of real cat food (I know I could be nitpicking but I hated bias about cats being reinforced in fiction, like cats aren't affectionate and cats drink milk while a cat shouldn't drink milk in real life).
The good points are: the movie features a mouse, Roquefort, that isn't a jerk and this feels refreshing to watch; the animation is beautiful as expected of the golden era of Disney; all the cats are cute but I'd like to highlight Marie for being such a spoiled kitten and Toulouse's hissing; the OST is also great and I also found out that Louis Armstrong almost got a role in the movie. To summarize, I recommend this movie to watch as a great cat movie.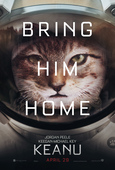 Keanu

Keanu: Cadê meu gato?!
Score: 🐱
Type: Full-length Movie
Duration: 100 minutes
Release date: 2016
Genres: Action, Comedy, Crime
Cats Spotlight: All cat actors that got Keanu's role
This movie was one of the biggest letdowns in movies for me and to explain why I'll start the review with the plot. The movie begins with the movie's title Keanu (at the time is called Iglesias) who is a pet cat of a drug-dealer guy in a drug processing factory, then two assassins kill everyone except the cat (because even assassins knows that you shouldn't hurt cats lol) then the kitten fled and appeared at the doorstep of a guy named Rell, who was dumped by his girlfriend. The kitten was then named Keanu and he was spoiled by his new owner until one day, when Keanu was alone at the house, someone broke into their house and kidnapped Keanu. So Rell alongside his cousin, Clarence, go in an adventure pretending to be gangsters so they can bring Keanu back home. And that's it.
When I was looking for cat themed movies I found this advertised as a "must watch movie for cat lovers", but it isn't. I won't make this review too long since I didn't liked the movie so I'm not going to describe everything but it barely shows Keanu (which is portrayed by 9 kittens by the way) and focus more on the relationship of the two cousins (I didn't know that are portrayed by two comedians that have their own TV show, so the movie was more their own motion picture than it was a cat movie anyway). To resume, the movie isn't anything like the rest of this list and I wouldn't recommend it.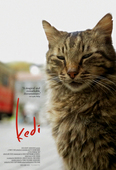 Kedi

Gatos
Score: 🐱🐱🐱🐱
Type: Full-length Movie
Duration: 80 minutes
Release date: 2016
Genres: Documentary
Cats Spotlight: Everyone
Kedi is a new favourite of mine so before going to the review I'd say that I recommend any cat person to watch it ♥ So if you want just skip the review and go watch it (the review won't be too long anyway since I liked most of the movie so I have nothing to complain about and write a rant lol).
The plot is a documentary about cats in Istanbul, Turkey. It shows different parts of the city where they interviewed different people and their relationship with cats (some of the interviewed people were cat owners themselves, some take care of the many street cats of the city and others are just cat admires). We get to see many pretty, funny and wonderful different types of cats and get to know a bit of Istanbul's cat story.
I was surprised (in a good way) that many people there really liked cats, and more than that, it was like liking cats was in their culture. The only problem that I saw is that many people didn't desexed the cats so the street cats population is big and is only going to grow more in the future. Also, my only problem with the movie was that the director changed from one scene to another too fast, during the movie, and I felt that some of the stories were left unfinished/to be continued later, but they didn't continued so some of the stories felt incomplete. But overall it's a wonderful movie and I loved it ♥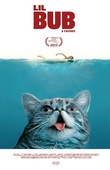 Lil Bub & Friendz

Score: 🐱🐱
Type: Full-length Movie
Duration: 65 minutes
Release date: 2013
Genres: Biography, Documentary
Cats Spotlight: Every famous cat featured
Lil Bub & Friendz is a rather peculiar movie which I have mixed feelings about. This movie is a documentary about the life of the Internet famous cat Lil Bub, her owner's life, other cat celebrities at the time and.. Nyan Cat? And Internet memes?
Even though I love fictional cats I have misgivings about real life celebrity cats. I feel toward the cat's owner the same way I feel towards parents who get their kids on show business: the parent is only exploiting the kid to get profit (like happens a lot). So I'd worry if the owners of Internet famous cats aren't just exploiting them for views and I have already seen before videos in which the owner was deliberately scaring the cat to get a "funny" reaction (not saying that it's the same for this movie).
The documentary tells about the story of both Lil Bub and her owner's life, it tells how he found her (she was a stray) as the rising of her popularity and features interviews with other famous cat owners and a really weird kind of festival where people watch cat videos on an open space at night (lol). I feel bad for saying this, but I was disappointed in this movie and didn't like it. I thought I was supposed to like it because it's a cat movie but I felt it was a movie about the Internet and memes. Actually, it's the first movie about cats (that doesn't have an evil cat bias) that I didn't like, so I feel really weird berating a movie that features real life cats. So I'd rather just say that I'd recommend it (but if you like her go for it).
Spoiler

Also, the ending is a bit bittersweet since Lil Bub passed away in 2019, then this movie was uploaded on Youtube as a homage to her.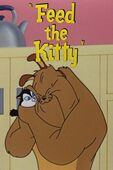 Marc Anthony and Pussyfoot

Feed the Kitty, Kiss me Cat, Feline Frame-up and Cat Feud
Score: 🐱🐱🐱
Type: Short Movie
Duration: 6-7 minutes
Release date: 1952, 1953, 1954 and 1958
Genres: Animation, Comedy, Family
Cats Spotlight: Claude Cat and Pussyfoot
Marc Anthony and Pussyfoot are characters from Warner Bros. that appeared in 4 short movies between 1952 and 1958 (they also made cameo appearances in other series but I will limit here to the series where they are the protagonists). The movies are different but the stories always involve Marc Anthony, who is a big brown bulldog protecting and being affectionate to Pussyfoot, a small black and white kitten.
A little parenthesis here: I didn't know about Marc Anthony before looking for and watching these shorts (I probably could have watched this on TV as a kid but I can't remember), but Pussyfoot is a common stationery character here where I live (I don't know if she is like that in USA). So I was pretty surprised to find out that she had her own animation series but at the same time I am disappointed that this duo didn't appear in a TV series or full length film.
Anyway, back to the main topic. Since the movies feature the same characters, similar story and are short movies I'll talk about them in this same section.
n the first short, Feed the Kitty (which is pictured here), Marc Anthony finds Pussyfoot in his yard and tries to scare her off but she wasn't scared of him and instead he ends up loving her (who wouldn't?) and brings her home as a pet. The whole short is about Marc Anthony trying to hide the cat from his owner who is tired of tidying up his messes at the house. In my opinion this short is the most charming of the 4 and also my favourite, so I wholeheartedly recommend it.
The second short, Kiss me Cat, is about Marc Anthony trying to prove to his owner that Pussyfoot can hunt a mouse so that she can stay in the house. Even though I disagree that kittens can't hunt just because they are cute (these people never saw a tiny angry furry thing) it has some pretty fun scenes.
The third short, Feline Frame-up, features another Warner's character, Claude the cat. I'm gonna straight up say that I didn't like this short at all and is pretty stupid (Tom and Jerry's level of stupidness). In this series I think that Claude also belongs to the human couple, alongside Marc Anthony and Pussyfoot, because the episode begins with Claude kicking Pussyfoot off her bed and the rest of the film is about Marc Anthony trying to avenge Pussyfoot/deliberately hurting him. Did Claude was being a jerk kicking Pussyfoot off her pillow? Yes, but does this justify the gratuitous cartoon violence toward cats? No. Anyone who owns more than one cat knows that they can fight a lot, especially because of sleeping places, but it's like a sibling fight and Marc Anthony fighting back to Claude would be the same as a mom hurting one of her kids because they fought. So I wouldn't recommend this short.
The fourth short, Cat Feud, has Hector the Bulldog instead of Marc Anthony and Claude the Cat. The story is a mix of the 1st and 3rd shorts, it starts with Hector finding Pussyfoot in a construction site (I assume he is a guard dog), trying to scare her, loving her and protecting her. Then appears Claude, this time as a hungry stray cat, that tries to steal Pussyfoot's lunch and as, you probably guessed, Hector assaults him. I don't have much more to say about this short than that I didn't like and wouldn't recommend it.
Overall the pair Marc Anthony and Pussyfoot is great (it was even referenced in the Pixar's Monsters SA movie), the art is beautiful as expected of the era and the OST is ok-ish but I have to wonder what the hell is wrong with these animators for enjoying a cat being assaulted on TV. So, do yourself a favour and watch only the first two shorts.
Note: Marc Anthony also appears alone in one short and both make cameo appearances in other shows but my point here is cats as main characters so I didn't cover these.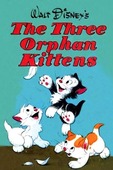 Three Orphan Kittens

Três Gatinhos Órfãos
Score: 🐱🐱
Type: Short Movie
Duration: 9 minutes
Release date: 1935
Genres: Animation, Comedy, Family, Musical
Cats Spotlight: The three kittens ofc
This short movie is part of Disney's Silly Symphony, which is a series of short animation movies each featuring charming music (the title is pretty much self-explanatory). Since this movie is only 7 minutes long there isn't much to review without spoiling everything, but I'll try.
The story is about three little kittens that were abandoned in a snowy night right in front of someone's lawn, then they managed to get inside the house without anyone noticing and do what every kitten knows best, wreak havoc! Despite this stupid beginning the kittens have an almost happy end, the OST is pretty good and the kittens are cute, but I recommend it? No, I'm pretty sensitive when it comes to portrayal of cats in the media so if a cat is hurt/mistreated I don't like it and even though it's mild I didn't like some stuff that happened on this short. So, I'd only recommend it for completion purposes.