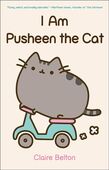 I Am Pusheen the Cat

Eu Sou a Gatinha Pusheen
Score: 🐱🐱🐱
Author: Claire Belton
Release date: 2013
Genres: Comics, Comedy
Cats Spotlight: Pusheen and Stormy
I think that Pusheen needs no introduction, the SD blogger, lazy, cute, brown comic strip cat is an Internet sensation already so this is just her in book form (with her sister Stormy, a fluffy gray kitten that I didn't know existed).
Even though I don't like stylized drawn cats, I like her. My only pet peeve is that her behavior isn't very realistic (she uses the Internet and stuff), but I like the book and recommend it if you like her or if you like cats. But don't expect too much of it too, what you get on the book is basically what is on the comic strips online.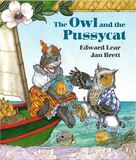 The Owl and the Pussy-Cat

A Coruja e o Gato
Score: 🐱🐱🐱
Release date: 1871
Author: Edward Lear
Genres: Poetry, Children fiction
Cats Spotlight: The Pussy-Cat ofc
This book is a nonsense children's poem about a cat and an owl that fall in love and go to an island "where the Bong tree grows" to get married. The history is interesting but since it's a poem there isn't much to review though but if you like the poem you should also read "The Tale of Little Pig Robinson" by Beatrix Potter, which is a prequel/spinoff of some sorts and it features the pig with a ring on it's nose (a minor character on the poem) as the protagonist and the Pussy-Cat as a minor character. Also the book can have different illustrators depending on the edition.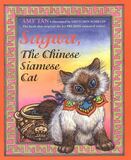 Sagwa, The Chinese Siamese Cat

A Gatinha Siamesa Chinesa
Score: 🐱🐱🐱🐱
Release date: 1994
Author: Amy Tan
Genres: Picture books, Children fiction
Cats Spotlight: Sagawa and her descendant
Sagwa was a cartoon that I used to watch as a little kid (it aired at 7 am!) and this year I found out that it was based off a book and I felt in love with it's cover so I had to read it but I won't talk too much about the cartoon because the review is about the book. The book is about a siamese cat mom that is talking about her kittens, before they leave to a new home, about the story of their ancestors who are Chinese cats and how they aren't siamese but Chinese cats.
Sagwa, the protagonist, is a troublemaker white kitten that is daughter of a couple of cats and sister of two kittens that are owned by a magistrate that is known as The Foolish Magistrate and live in a place that people call The House of Magistrate. It goes without a saying that the magistrate is the villain here, also he forces Sagwa mom Mama Miao and her father Baba Miao to use their tails as paintbrushes to write his proclamations (that of course their people didn't like) so the cats got their tail tips black (the cats literally use their tails to write). To talk more about the story would be a spoiler so I'll just say that there is a redemption of the magistrate and everything ends well.
Since it's a picture book I couldn't forget the art style which is gorgeous, the cats are cute, especially the kittens and the borders of the book have elaborate designs and the magistrate is really funny. In summary, I recommend this book to read even if you aren't reading just because of the cats.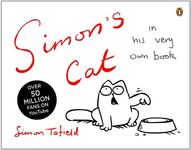 Simon's Cat

Simon's Cat - As Aventuras De Um Gato Travesso E Comilão
Score: 🐱🐱🐱
Release date: 2009
Author: Simon Tofield
Genres: Comics, Comedy
Cats Spotlight: The cat
This book is a short black and white comic book with no dialogues, with each page featuring different episodes of Simon's Cat life. The book is an adaptation of the animated Youtube series of the same name, which is good, but I thought that it didn't translate well to the book form.
Simon's Cat animated is a funny realistic description of how it feels to have a real life cat, but the book feels that they took a few screenshots and pasted it together and in book form. I read it together with the Pusheen book so I'll compare both. I thought that the Pusheen one was slightly more interesting than this, their comic strips translated better to book form than the animated Simon's cat and it's colored while this book is only line art. I didn't know Simon's cat that well as Pusheen, so this probably could have influenced me but besides this I like how the cat is more realistic and act like a real cat would act, so it's worth to "read" if you like cats, but don't expect too much of it.